Ray McMillan is enjoying the view out the clear, new windows that were recently installed in the house he has lived in since he was 4-years-old.
"I couldn't see out the windows – they were so clouded with condensation," McMillan said during a visit to his home.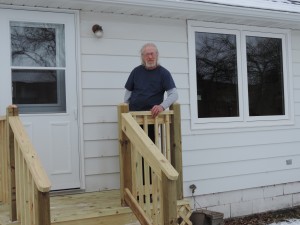 McMillan, along with 14 other homeowners in the City of Cavalier, have had or will have rehabilitation work done on their homes. Funds have been provided by the USDA Rural Development Housing Preservation Grant program, the ND Department of Commerce/U.S. Department of Housing and Urban Development Community Block Grant program, the Federal Home Loan Bank's Affordable Housing Program, the City of Cavalier, and the Pembina County Job Development Authority. More than $400,000 has been awarded for this project. The Red River Regional Council (RRRC) is administering the program, which began in 2013.
The project assists qualifying low income residents with health and safety issues in their homes. Common repairs covered by the program include roofing, windows, doors, plumbing, heating, electrical and other safety items. For a project to move forward, issues including historic preservation, floodplain, and lead-based paint must be addressed.
Stacie Sevigny, a developer with the RRRC, is the project manager for the Cavalier Housing Rehabilitation Project. She said that funding is currently available to add at least 11 more homes to the project, if people apply.
"We are seeking more eligible homeowners who need rehabilitation work done in their homes," Sevigny said. "Rehab work covered under the grants includes health and safety items. No cosmetic items can be addressed with these funds."
There is no cost to the homeowner for this program. To apply, residents need to complete a two page application and provide copies of supporting income documentation. Applications are available at the city offices or from any member of the Cavalier Housing Authority. Members include: Drew Olafson, Tom Ford, Darold Johnson, Rachel Morrison, Wayne Puppe and Corene Vaughn. Interested residents can also contact Sevigny at 701-352-3550 for an application or further information on how to apply.
To qualify, homes must be within the city limits of Cavalier and must be owner-occupied. Homeowners must be current on taxes and have no outstanding debt with the City of Cavalier. Mobile homes do not qualify.
Olafson, chairman of the Cavalier Housing Authority, is a strong advocate for the program.
"Housing rehab is critically important to any rural community," Olafson said. "In my opinion, housing is the core of economic development; a strong housing market is an indicator of a strong community."
McMillan agrees the program is worthwhile.
"The guys did an excellent job and I am so impressed with the program," he said.
Homeowners interested in the program should contact Sevigny at the RRRC at 701-352-3550 for more information or any member of the housing committee. To see the income eligibility requirements and supporting documentation needed to apply, please click here: Cavalier Housing Applicant Poster