The Red River Regional Council (RRRC) recently added Danielle Gorder to its team as an Environmental Program Manager. In this role, Danielle will be managing the long-standing Red River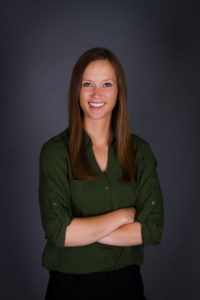 Riparian Program.  Danielle is a 2015 graduate of the University of North Dakota with a Bachelor of Science double major in Geology and Environmental Geoscience and a minor in Mathematics.  During her studies, Danielle completed field studies in Turkey; Iceland; Pembina Trail Scientific and Natural Area, Minnesota; Theodore Roosevelt National Park, North Dakota; and Penokee Range, Wisconsin.  Danielle also gained professional experience as an Environmental Intern at an iron ore mine in northern Minnesota.
Danielle is skilled in ArcGIS, fieldwork, GPS navigation, instrumental work, and data analysis. She grew up working on her family's farm near Fordville. Her interests include traveling, outdoor activities, agriculture, and operating equipment.
The Red River Riparian Program has been a program of the RRRC since 1993 to address the riparian needs of landowners in the Red River Valley. The goals of the program include the restoration, protection, and responsible management of riparian areas made possible through financial and technical assistance. The Program is currently in its fifth phase with funding secured from the Environmental Protection Agency funding through the North Dakota Department of Health 319 Program as well as the North Dakota Outdoor Heritage Fund.  Funding is utilized to provide 60 percent grant funding for riparian projects as well as staff.
The RRRC is one of eight regional planning councils in North Dakota established in 1973 to enhance the ability of local governments to jointly plan, address issues, and seize opportunities that transcend individual boundaries. The RRRC serves Region IV which includes Grand Forks, Nelson, Pembina, and Walsh Counties.