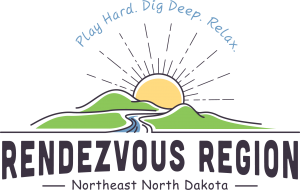 For the past year, a group of approximately 15 regional leaders have been meeting to relaunch the Rendezvous Region Tourism Council which was first initiated 25 years ago.  Initially started as a partnership between the cities of Langdon, Walhalla, Cavalier and Pembina, the group has grown to include Cavalier, Pembina, and Walsh Counties.  At their meeting last Thursday at Frost Fire near Walhalla, the council adopted its new logo and is in the process of developing a marketing campaign to spread the awareness of the many recreational and cultural amenities in northeast North Dakota.
The council's mission is to build a cohesive tourism brand through education, marketing and amenity enhancement.  The new logo emulates an attractive destination and was designed to reflect the varied landscape of prairie, rolling hills, and the Pembina Gorge.  The logo tagline references a variety of outdoor recreation amenities, rich cultural and prehistoric history, and the serene nature.
The group is currently developing a membership model to build annual revenue to invest in marketing of the area.  In 2017, the council had a six-page regional feature in the Fargo-based High Plains Reader, developed a Facebook page, and has secured a full-page ad in the 2018 ND Travel Guide which reaches more than 300,000 people.  The Cavalier County Lodging Tax Committee committed $1,250 towards the 2018 ND Travel Guide based on participation from Walsh and Pembina Counties.  The Pembina County JDA became a founding member of the revived tourism council with its $10,000 contribution at their meeting on November 8, 2017.  Tourism is a priority economic development strategy.
On Prairie Software, a Walhalla based software development company, is also launching the "Find ND" smart phone application that people can use to plan their trip to the Rendezvous Region and learn more about the area.  The group is also exploring additional uses of technology to provide education availability at all times.  According to Nathan Smith, On Prairie Software President, "Technology gives visitors an immediate personalized guide to the region and allows us to be proactive in showing what the region has to offer."
Tourism is the state's third largest industry, behind energy and agriculture.  According to a North Dakota State University study, tourism generated more than $25 million in 2015 within the Rendezvous Region.  In 2015, jobs in arts, entertainment, recreation, accommodation and food service comprised 509 jobs in this region.
"Tourism development is really about destination development and being high quality of place that draws both visitors and enhances the quality of life for residents," said Dawn Keeley, a member of the group.  "Our heightened emphasis on destination development is aimed to assist in stopping a 70-year trend of population decline and filling the jobs openings that we have."
A recent Pew Research Foundation study revealed 51% of people prefer living in small towns and rural areas with the primary reason being safety and security, affordable housing, and relaxed life style.
The peak population level in the Rendezvous Region was in 1940 with 50,341 people with the 2016 population estimated at 21,800.  Since 1990, these three counties have lost 25% of their population or 7,342 people.  This population loss equates to the current populations of the cities of Grafton, Cavalier, and Langdon combined.
There are more than 1.2 million people within a two-hour drive of the Rendezvous Region.  Northeast North Dakota is the only part of the state with that significant population density to draw from for visitors which can equate to more business revenue for area hotels, campgrounds, restaurants and main street businesses.
The region has an array of existing niche businesses within the region that provide interesting experiential shopping, activities such as painting, arts and crafts, design, as well as a variety of coffeeshops, bakeries, artisans, restaurants and recreation amenities.  There are numerous available buildings throughout the Rendezvous Region that could be filled with additional niche businesses to create more vibrancy on main streets.
"Promoting the Rendezvous Region as a whole has a great impact on all of the communities within it.  Collectively, we have so much more to offer when we work together instead of standing alone," said Rachel Morrison, Executive Director, Cavalier Area Chamber of Commerce and Tourism.
Barb Mehlhoff, Langdon Chamber of Commerce, shared, "Langdon is proud to be the Western Gateway to the Rendezvous Region.  We are looking forward to the positive effects that marketing of the Rendezvous Region will bring to Langdon and all the communities in the three counties.  Marketing of this little treasure of northeast North Dakota is important for our communities to continue to grow and prosper by increasing tourism in the future."
Current members of the tourism council include:  Barb Mehlhoff, Langdon Chamber of  Commerce; Rachel Morrison, Cavalier Area Chamber of Commerce & Tourism; Julie Campbell, Walsh County JDA; Kathy Stremick, Pembina County JDA; Mike Duerre, ND Parks and Recreation; Bill Dahl, Grafton Parks and Recreation; Marlys Boll, Ox Cart Trails Historical Society, Drayton; Nathan Smith, On Prairie Software, Walhalla; Zelda Hartje, Pembina County Historical Museum; Kristi Wilfahrt, Pembina Gorge Foundation; Kari Helgoe, NDSU Extension, Pembina County; Dennis Sevigny, Grafton Chamber of Commerce; Cheryl Osowski, RRRC/Walsh/Pembina Historic Preservation Commissions; Maggie Suda, RRRC/Pembina County JDA; and Dawn Keeley, RRRC/Pembina County JDA.
More information can be found on the council's Facebook page:  https://www.facebook.com/rendezvousregion/